ULYSSES GUIDEBOOK
COLOMBIA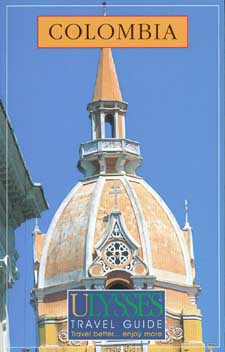 With attractions like Tierradentro, one of the most fascinating archeological sites of Americas, the beautiful preserved colonial ramparts of Cartagena de Indias, and the world only cathedral built in a salt mine, more then 200 m underground, Colombia is a destination not to be missed!
The Ulysses Travel Guide COLOMBIA invites you to discover this spectacular country, from the exotic beaches of the Caribbean coast to the country's captivating capital tucked away high in the Andes. With COLOMBIA, you will meet the Wayuú people of La Guajira Peninsula, and visit Medellín, the City of artists like Fernando Botero, but also the hometown of powerful drug cartel lords.
COLOMBIA brings you first to Santafé de Bogotá. Than San Andrés, Riohacha, Cabo de la Vela, Santa Marta, Cartagena de Indias and Santiago de Tolú, on the Caribbean coast.
COLOMBIA goes to Medellín, and then Bucaramanga, San Juan de Girón, Manizales, Armenia, Pereira, Santiago de Cali, Tuluá, Guadalajara de Buga, Buenaventura (on the Pacific coast ) and Juanchaco, La Bocana et Cangrejos beaches, Popayán, Silvia, and to San Agustín and Tierradentro Archeological Parks.
More, take a boat trip from Leticia to Nariño on the río Amazonas to discover the magnificence of this great river and see the pink dolphins.
For more information and/or purchase, visit the following sites :